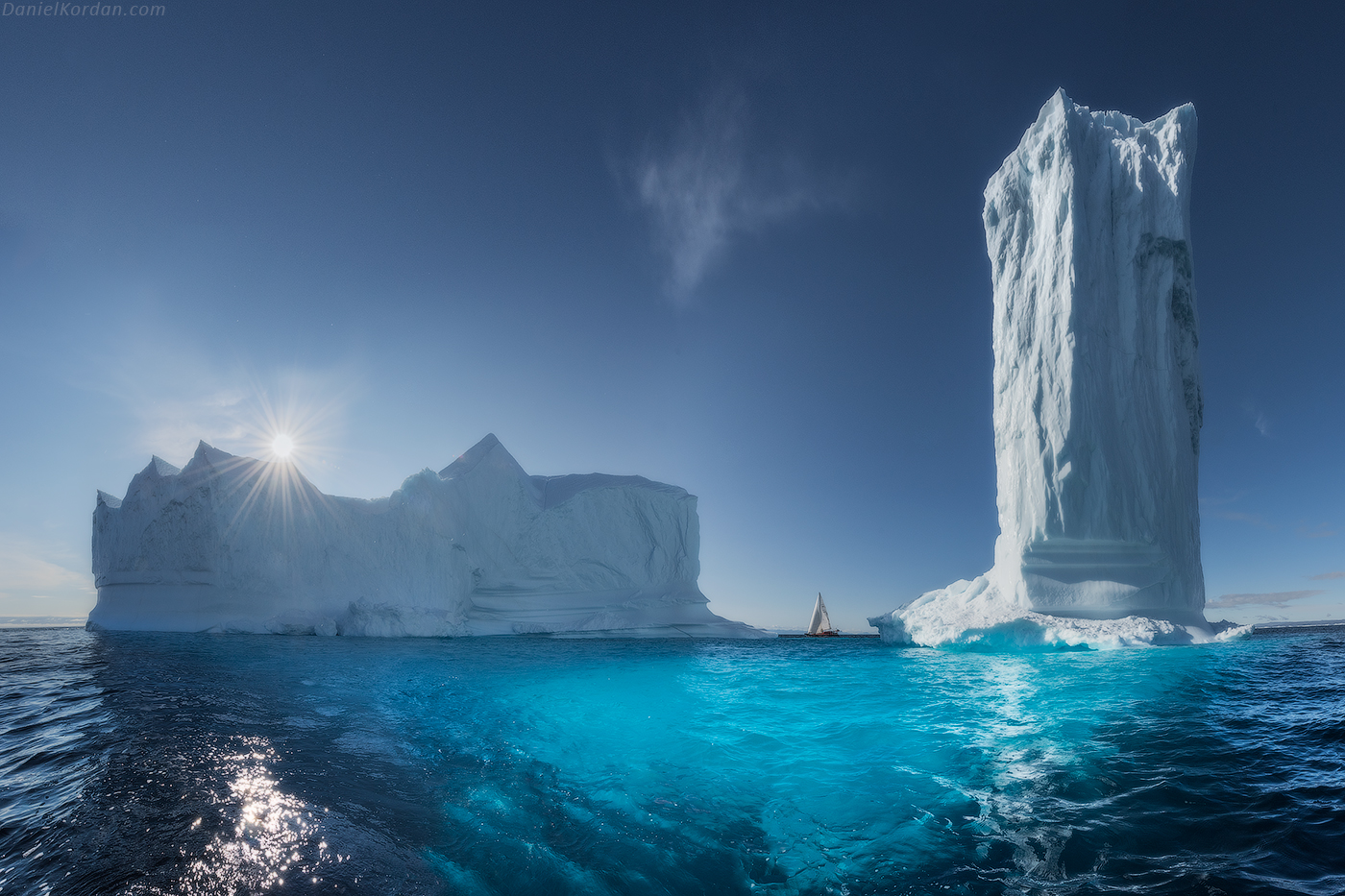 We invite you to join our unique expedition on "Peter-1" yacht to the amazing South Georgia island. This is the part of our long expedition through Spitsbergen, Greenland, South America (Chile fjords) to the Antarctica. The number of people is strictly limited – only 6 people for this beautiful part of our expedition. The schedule of the trip constructed for purposes of photography and filming. The classical tour to Antarctica differs a lot from our style. You'll be offered to sail on "zodiacs" only during some hours but we can always sail and hunt the light and best perspectives during the whole day and night and to stay mobile at the same time. The previous experience has shown that a good team and a maneuverable yacht give an incredibly beautiful result.
Our timetable is more or less free, but we have ambitions to go around South Georgia island.
The main goal is to shoot beautiful and untouched wild nature world of Antarctic the "ecological way", by yacht – not scaring animals. We'll work out our everyday timetable taking into account ice situation and weather. Imagine to be in Antarctica and South Georgia face to face, without crowds and queue for zodiac boats focusing mainly on photography and exploration. The spirit of adventure and exploration will be with us all along our way.
Please note that the crossing from Falkland islands may be a true hardcore adventure. This is a thing you should remember for the whole life: severe wind, waves, and brave experienced russian crew leading yacht towards white continent. This is something to live and endure if you want to test yourself.  We have all necessary permits and documents to officially visit South Georgia and Antarctica. The yacht is equipped with modern safety systems.
We are fascinated by the rich wildlife or the beauty of the unspoiled South Georgia island natural environment. South Georgia island sea life includes penguins, blue whales, orcas, Humpback, Minke and Fin Whale, colossal squids and fur seals. The emperor penguin is the only penguin that breeds during the winter in Antarctica, while the Adélie penguin breeds farther south than any other penguin. The rock-hopper penguin has distinctive feathers around the eyes, giving the appearance of elaborate eyelashes. King penguins, chinstrap penguins, and Gentoo penguins also breed in South Georgia. Gentoo and Chinstrap Penguins are the most common at the peninsula. The Orca or Killer Whale is also seen in this area. There are many seals. The Leopard Seal is a predator of penguins and other seals. Seals can leave the water and move on dry land to breed, rest and molt. Marine inhabitants endemic to this ecosystem outnumber and (in respect to biodiversity) surpass well-known regions such as the Galápagos.
The advantages of traveling by arctic class yacht are obvious: big cruises are enormously expensive (more than $10,000 usually), the yacht is more mobile. We can listen to every participant's opinion what is difficult in a team of 50-100 people on board. Imagine how you will disembark to the land with diverse wildlife in such a crowd!
Big ships can scare away the animals and can't be as mobile as we are. The yacht has both rigs and a motor. Moreover, we have a quick and maneuver "Zodiac" which can be launched at any moment to get closer to the animals or to go ashore. Safety measures' questions are paid special attention: satellite phone, navigational system and ice maps.
Besides, mass tourism is a major ecological problem for the South Georgia. Imagine what will happen in case of the cruise ship will have a fuel leakage? We are traveling ecological way, and you will listen to a sound a silence of the animal continent while our sails will be filled with the fresh wind.
"Peter – 1" yacht
"Peter – 1" yacht is an arctic class yacht with a steel jacket equipped with modern navigation system. You can use the kitchen, WC, shower, the main cabin and living rooms – one single cabin, two double cabins and a bunk room. The yacht's team is 4 or 5 professional sailors + 6 photographers on board. There is one zodiac (a motor boat) on the yacht. There are 220 V receptacles (they are sometimes turned off), freshwater supplies (700 + 200 liters). We went on Greenland photo tour with "Peter-1" team (usually it's 4-5 people) brilliantly. Several years ago the team set a world record and went on the Arctic world-tour in one season.
"Peter – 1"  is a very solidly built ship. Literally it's made of steel. The ship is fitted out for worldwide sailing and has all the safety certificates and permissions required under worldwide requirements for visiting Antarctica. 4-5 experienced, professional members of the crew will ensure the our safe operation. Our safety equipment include life jackets, life raft, fire extinguishing equipment, a stock of medicine, EPIRB and radar transponder. "Peter – 1" navigation and communication equipment includes radar, a compass, a satellite navigation system, an echo sounder, a sextant, SSB transmitter, Inmarsat-C terminals, an Iridium Satellite telephone, VHF transmitter.
"Peter – 1" has a zodiac with outboard fast engine. The drinking water capacity is 750 litres in permanent tanks. Food stores will be taken on board before our departure in Ushuaia. We will also take on board 1000 litres of diesel to fuel the heater, the generator and the main engine. The ship has a power supply of 220V AC (50 Hz). Plugs on board are European style, two pins.
Our schedule is based on weather, ice conditions and safety precautions. We have the following goal to reach: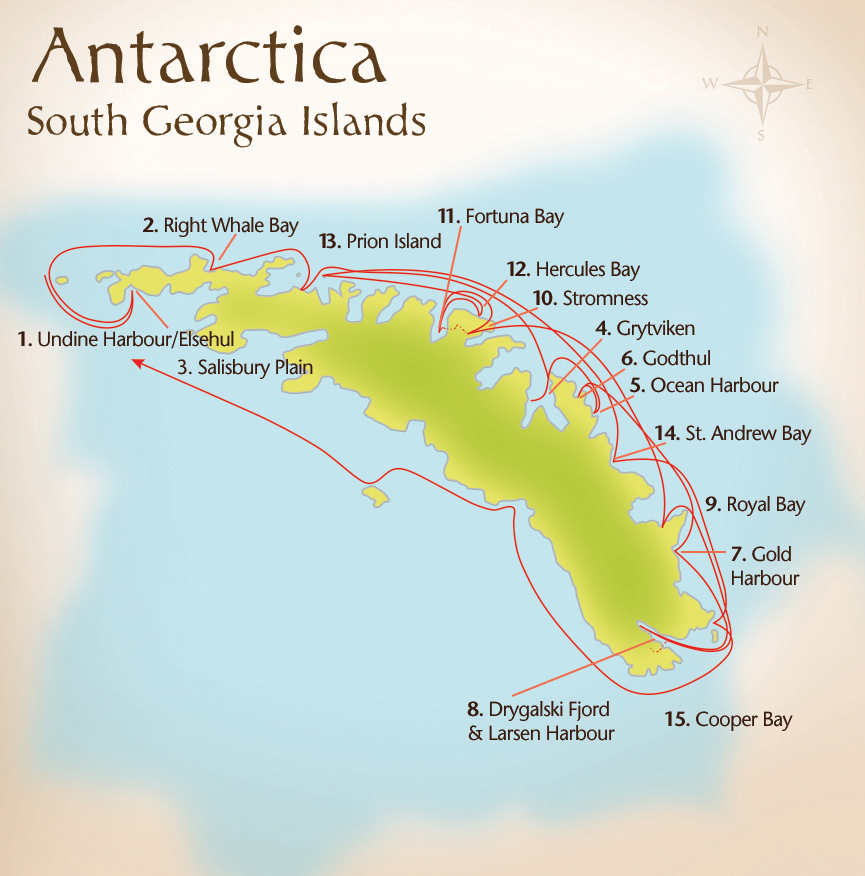 Day 1, 14 January, Saturday

Meeting together in Port Stanley, at Falkland islands. Depending on the weather we might start the journey this day or next morning, to catch the weather window. We are flexible within 3 days to start and finish the journey. Please note that all flights are scheduled only 1 time per week on Saturdays. The flight will be recommended for a group.
Day 2

Today we start our great adventure to the South Georgia. We cast off our mooring lines and sail towards the "Animal island". Our crew will give your safety instructions. Please take in consideration that we can wait for 2-3 days if the weather will not permit us to go the passage.
Days 3, 4
This open sea passage is famous for it's  winds and waves. Our experience crew will guide the yacht safely. You do not need experience in yachting to join the trip.
Day 5
We arrive at South Georgia island and start to explore it's beauty. The tour is mainly constructed for animal photographers giving the maximum opportunities to shoot diverse wildlife of this amazing island. We will disembark as much as the time affords us within our small group of 6 photographers.
Please note that those pictures used for the announce are made in Greenland.
Days 5 – 15
We spend full 10 days at South Georgia. Please note that most cruises are allowed to spend only 2 days at South Georgia, but we will be here for full 10 days sailing all around the island and disembarking every single day! Our photo tour has a goal to have plenty of time to wait and observe the nature in silence and patience.
Days 16 – 20
We sail back in the direction of Falkland islands.
Day 21, 2 February, thursday
We finish our journey at Falkland islands. This place has beautiful nature as well as Antarctica. We have a few days to explore Falklands by ourselves taking optional excursions.
The flight to South America is scheduled to Saturday. But please mention that we have these 3 days as a window to cross the passage to South Georgia in a calm sea and good weather. So all hotels should be booked at Falklands themselves upon arrival.
4 February
2 days after, on Saturday, we can fly from the Mount Pleasant Airport or Port Stanley Airport (flights are scheduled only on saturdays, once per week) to South America.
Pricing:
Total price: 8950 USD per person
Maximum Number of Participants: 6
Deposit
A deposit of US$1,000 is required at time of booking to hold your spot. The balance of US$7,900 is due on May 5, 2016.
Cancellations
We must receive written notice of your cancellation, at which time the following are nonrefundable:
180 days or more before departure: 100% of deposit
179 to 121 days before departure: 100 % of deposit + 50% of balance
120 or fewer days before departure: 100% of trip fee
Insurance
We require proof of trip insurance to cover emergency medical care and evacuation for the duration of the expedition, as well as trip cancellation insurance.
Included in the price:
– Accommodation and transportation by yacht
– All meals (except alcohol)
– Instruction and master classes by professional guide
– Professional crew of arctic sailors
– Zodiac boat services
– Fuel
– Port taxes and fees
– Natural reserve fees
Not included in the price:
– Airfare
– Visas (if applicable)
– Accommodation & meals on land (Falklands) before and after the expedition
– Airport transfers
What to bring
Gear:
– DSLR camera with tripod and remote shutter release
– A wide angle lens. For example, Nikkor 14-24 or Canon 17-40. Best lens for use in wide-angle scenes or architecture photography
– A middle-zoom lens such as a 24-70 mm
– A telephoto zoom lens, such as a 70-200 mm. 300 mm with 1.5 TC or 500 mm, 600 mm are recommended for wildlife and bird photography. Be sure to have additional tripod mount to this lens.
Wear:
– Waterproof and windproof jacket
– Waterproof pants
– Warm jacket and thermal pants
– Wellingtons or fishing boots
The full list will be sent by mail to participants.
Daniel Kordan
Daniel was born in Moscow area. In his childhood he graduated the art school. After that, he is studied in Moscow institute of Physics and Technology and became an optics physicist. During the study he gain experience not only in physics, but also in mountain climbing and hiking, guiding tourist groups in winter and in summer in Russian mountains. Right after graduation he became a guide of photo-workshops and chief editor of "Continent expedition" magazine. This magazine is about travel and adventures all over the world. He has got several awards in photography: Golden Turtle' 13 Nature nomination winner, National Geographic Russia contest 2013 and 2014 finalist, Best of Russia'13 and '14 winner, best photographer'13 finalist and others. He is spending most of his time in Norway, Lofoten islands and in Tuscany at villa Gaia, guiding groups of photographers.